Free Download Samples of Our Most Popular Books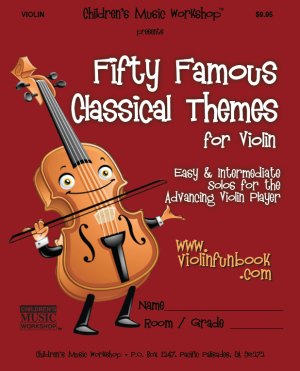 Fifty Famous Classical Themes for Violin
This book contains fifty famous classical themes along with accompaniment chord changes and bowings. A must have book for the advancing violinist.
Songs include: A Mighty Fortress Is Our God, Allegro Maestoso, Ave Maria, Awake My Soul, Barcarolle, Blue Danube, Bouree, Bridal Chorus, Carnival of Venice, Chiribiribin, Christ the Lord Is Risen Today, Come Again, Sweet Love, Come Back to Sorrento, Dolores Waltz, Eine Kleine Nachtmusik, Farnandole, Finlandia, First Theme for Plovetzian Dances, German Dance, Habanera, Halllelujah, Kiss Waltz, La Cumparsita, Londonderry Air, March from the Nutcracker, Melody in F, Minuet (Beethoven), Minuet (Boccherini), Minuet I (Bach), Minuet (Mozart), Morning, Musette, Nocturne, Ode to Joy, Pavane, Piano Sonatina No. 1, Pomp and Circumstance, Reverie, Rondeau, Sleeping Beauty, Swan Lake, Symphony No. 1, Symphony No. 7, Symphony No. 9, The Last Rose of Summer, The Skaters, Trumpet Tune, Trumpet Voluntary, Turkish March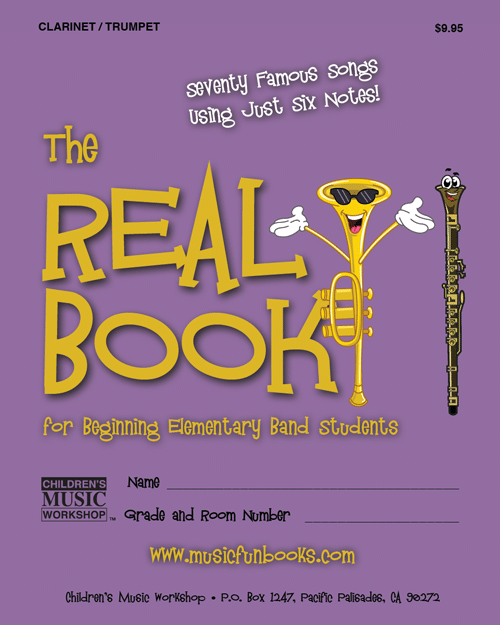 The Real Book for Elementary Band Students (Clarinet/Trumpet)
A book of seventy famous songs for the beginning band student that uses just six different notes. Easy to read over-sized notation includes two versions of each song – one with letters inside the note-heads and one with regular musical notation.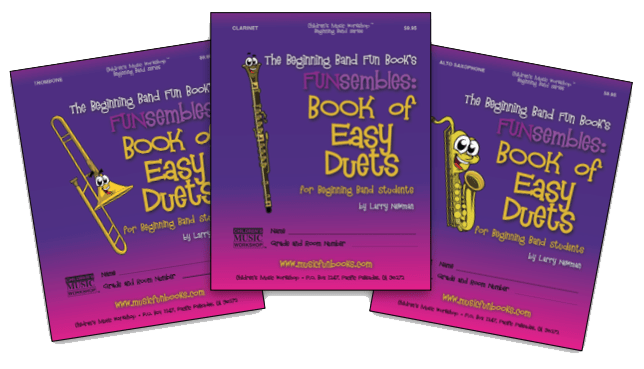 FUNsembles: Books of Easy Duets
for Beginning Band Students (Clarinet/Trumpet)
More than thirty easy duets for the beginning band student • Great supplement to The Beginning Band Fun Book • Works with any instrumentation of flute, oboe, clarinet, alto saxophone, tenor saxophone, trumpet, french horn, trombone and bells.
Band Books

Visit our ARRANGEMENTS PAGE for free download samples of the Band and Orchestra Arrangements.
Band and
Orchestra Arrangements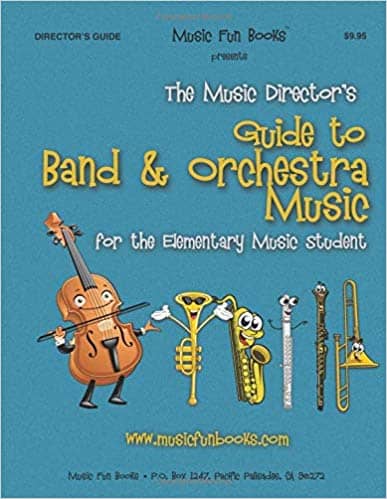 Get your free color copy (pdf) of:
Guide to Band and Orchestra Music
A $9.95 value